Not that it hasn't been hot and humid all year round in Singapore but the intensity in July/ August is just cray. My eczema has been acting up, on and off depending on how often I've been sweltering outdoors. I went to a Lush store the other day thinking of picking up Dreamwash because it's been working well for me as far as not irritating my skin further during the hotter-than-usual months goes, but ended up bringing Lush's Movis soap home with me instead. Yes, you are right. I'm a damn obedient customer who listens to the SA all the time.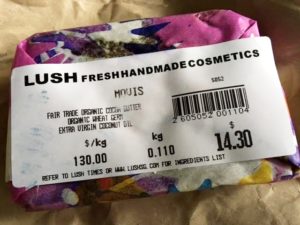 I was told that this Movis soap is a facial cleanser for sensitive skin, but it can be used as a body cleanser as well, since it is mild enough for the face, it should also work for the body. The rashes from eczema tend to be at around my neck and behind-elbow regions, while I consider these areas pretty delicate, they should be harder-wearing than any part of the face. But that wasn't why I bought it. I bought it because he said many customers claim that their facial eczema has cleared up from using it. If this is true, this cleanser must be a god-sent for me.
Best Facial Cleanser for Eczema by Lush Cosmetics or Body Soap, rather?

Texture/ Appearance
It looks and feels like a banana pound cake. Especially when you know, they slice them into pieces from the whole loaf like they do in Lush. It feels spongy to the touch; not sponge-spongy but bread-spongy. Even the moist from it feels like how it'd have felt if you were to just jab your finger into some cold cake. It feels dense and packed on the inside though, see how chewy it looked when I pulled a corner off it could still stretch out without breaking off. The crust (I can't help introducing yet another pastry-related term) as you can see resembles that of a wholegrain bread. I know, it's weird, the whole experience of using it is, if you read on.
Scent/ Fragrance
You need to hold it close to your nose to make something out of it. It smells like straight-up cinnamon. Please, someone tell me this isn't cake.
Ingredients
Some of those are: wholemeal bread (haha), coconut oil, sunflower oil, wheatgerm oil, hop oil, sandalwood oil, etc.
The one the store assistant was selling me on was the effect of sandalwood oil on my skin. He says sandalwood oil can lighten scarring and soften hardened skin effectively which is the ultimate healer ingredient of the lot. The rest of the oils mentioned here have soothing, hydrating and anti-flammatory properties as well as Vitamin E.  Vitamin E protects the skin from free radicals and sun damages, it also regenerates and renews skin cells, thus healing damged skin faster. The wholemeal grains from the bread are also rich in Vitamin E, together with the bread they serve as a skin exfoliator to slough off dead skins.
How To Use
You want to crumb a tiny portion off with your fingers each time. A pinch of it is enough to foam a little lather for your face. I'm now talking like I know what I'm talking but I'd actually buff the whole cake of soap on my body during showers. Lol.
Here's the story if you're interested. The bar of cleanser was unharmed for the first two times I did that. On the 3rd it felt more like a wet squishy except that the shape doesn't spring back when, if you're like me, fancy a challenge by squeezing it. I should've seen this coming on the 2nd attempt when I thought that the water trapped inside it would've evaporated the next day but it didn't. So I left it alone in the shower room for a couple of days more before I did that squeezing thing when I came by to visit it for the third time. Not only was it as wet as I'd seen it the last time, alas, it's deformity was irreversible. Hey at least it doesn't look edible now. Yaye.
Back to how you use it. I put the now writhing cake into a recycled Lush pot and started to crumb it off bit by bit for each part of the body you want to target. If you're using it for the body like I do, you don't want to use any portion bigger than a thumb's size at any one time, because as you lather your skin with it, it starts to break loose in smaller portions and you'll end up busier picking those up from the floor. I'd prefer you to spend your energy cleansing your skin at the same time cut down on those unnecessary product waste.
The Movis cleanser doesn't foam much as expected (or it wouldn't benefit skin with eczema would it) however it provides a lot of slip. And I mean quite a lot of glide from this one. This is why when it breaks up and starts to glide off your skin, you ain't gonna be fast enough to catch it.
Price and Where To Buy
Retails at SGD$13.00/ 100 grams at Lush stores in Singapore.
Verdict:

Lush Movis: Natural Soap Product Yes. Remedy for Eczema? No
I was really hoping that the Lush Movis cleanser could work for my eczema on the body skin because it costs a fraction lesser than Dreamwash ($19.90/ 100 grams). It didn't really help with my condition to be honest. I felt that it didn't calm my skin as much as it was mild enough to not irritate it. It didn't help to expedite on the healing process either. It's like, it cleanses my skin, fair enough. But that's about it.
For those who may want to know how it performs on the facial skin, yes I'd tried it as a facial cleanser as well. Maybe because of the variety of oils this cleanser has (I get that totally – hydration is important for drying skin condition like eczema), it didn't really work for my oily facial skin either. Each time I use it to cleanse my face, my skin felt cleansed and supple at first but it took no time for the sebum to come back. So for those with oily to combination skin types, this isn't really an oil-control product. Whatever they say about combating oil with oil, this case proved otherwise.
Please follow and like us: