While everyone went gaga over her 40 shades of liquid foundation, I'm more interested with Rihanna's Fenty Beauty Match Stix Shimmer Skinstick. I've been a fan of multi-stick makeup for the longest time just because I'm all about quick and easy makeup. Anything that can multi-tasks I'm all for it. Today's review of this cream eyeshadow cum blush cum highlighter is going to be a fuss-free one, as straight up as why this product was created in the first place.
Fenty Beauty by Rihanna: Match Stix Shimmer Skinstick in Yacht Lyfe Review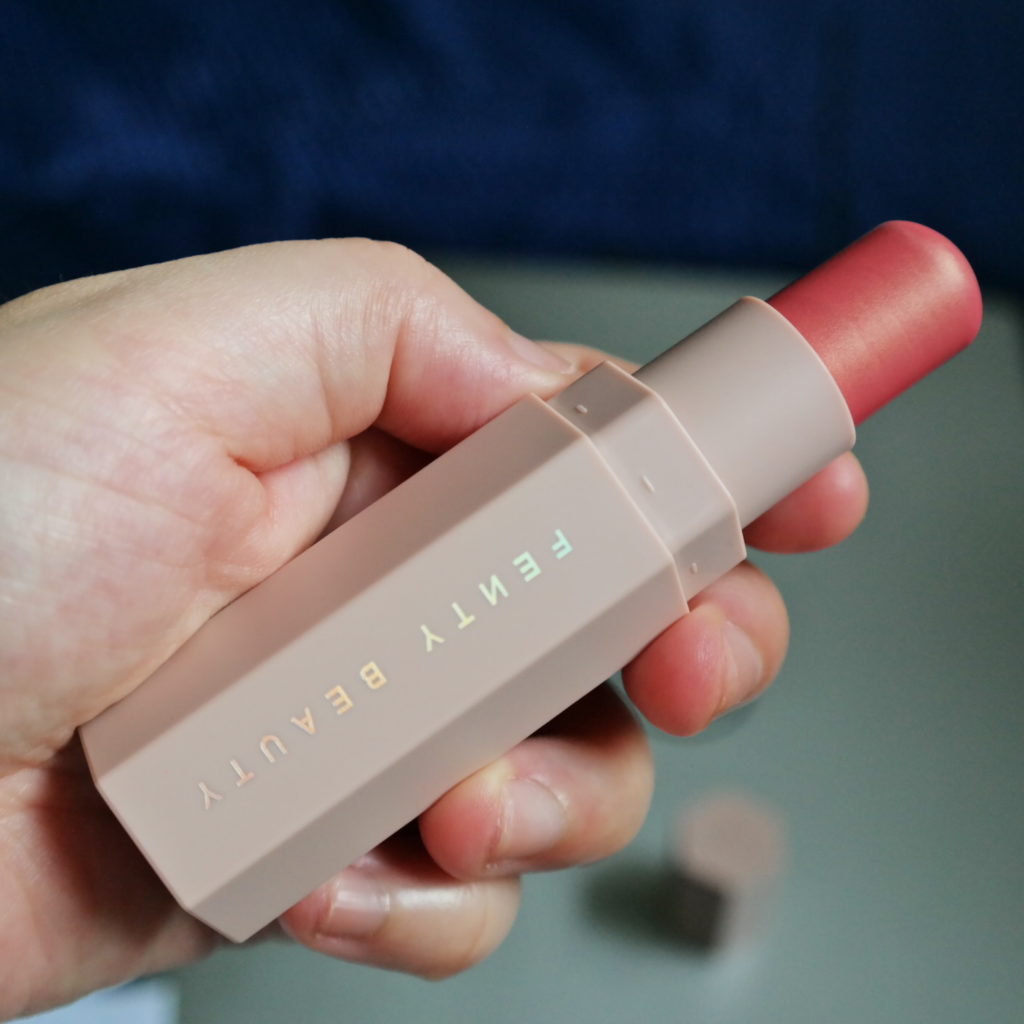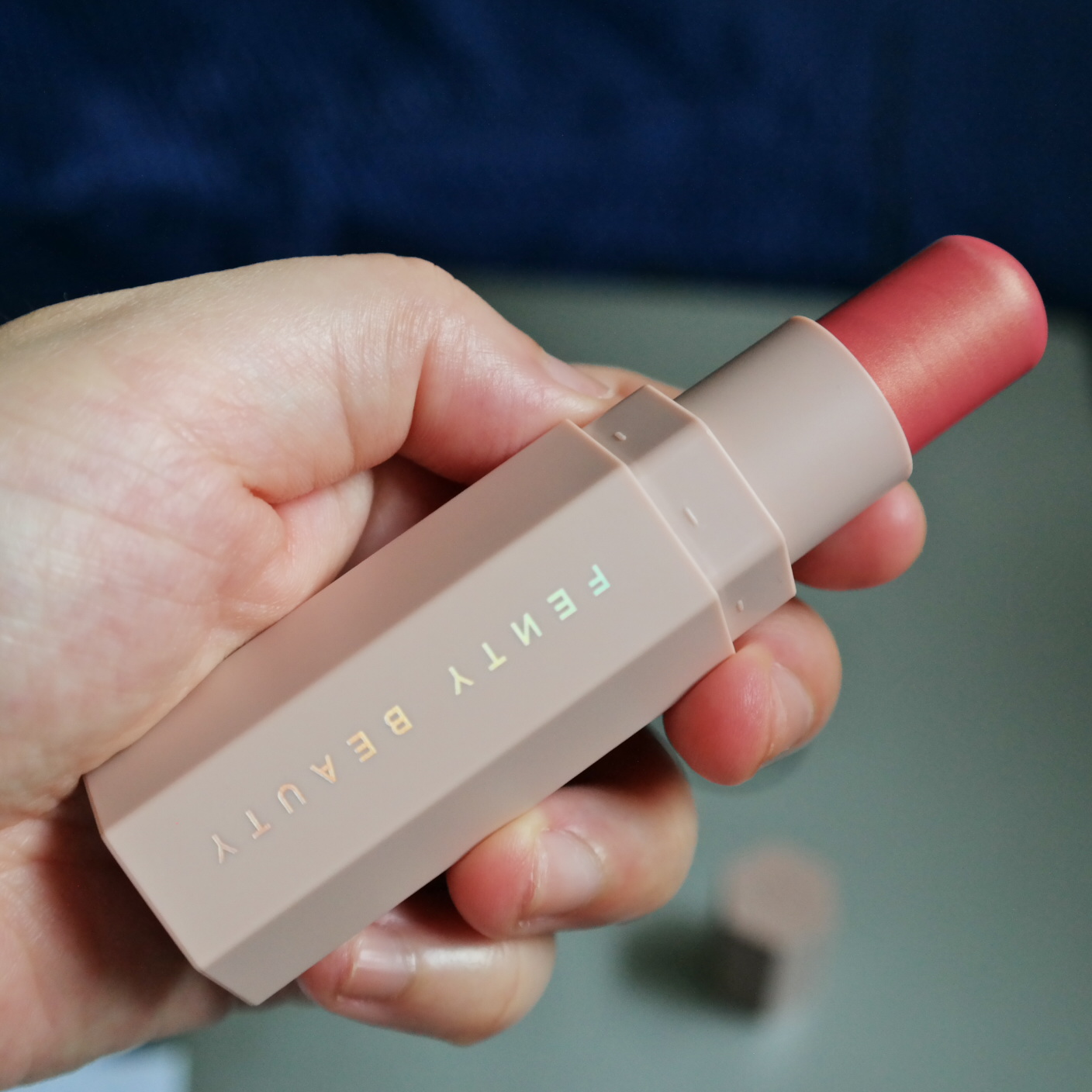 The new trend now to review a product, or at least, I notice that's what others like to know about anyway, is to look at how much of the amount of product the brand has to offer. So likewise, let me do the same here for you. In the above picture I'd twisted it to a T just so you know how much you're in for. What you are seeing here is 7.1 grams (0.25 oz) of product – beating the Nudestix Nudies All Over Face Color (which comes in bronzy/ glowy and matte shades by the way) by 0.1 gram!!! Round 1 goes to Riri.

Packaging
Need I say more? Love, love, love the nude theme and holographic embossed print. Much has been debated over who came up with the nude packaging first, Riri or Kim K? Kim Kardashian may have released her KKW Beauty makeup line a couple of months earlier, but words have been going around that the Carribean Queen had long settled with her designs and packaging a couple of YEARS ago. I have no comment on this, I find this too petty and trivial but what really got under my skin (see, I go beneath nude, I'm a very deep person lmao) was the incessant word 'Beauty' appearing in every makeup brand. You launch a makeup line with lipsticks and eyeshadows, what do you expect us to expect beside beauty? Smh.
So back to this Match Stix Shimmer Skinstick – I have problem saying this right for the first time every time, if I were Rihanna I would've named it something along the line of "Shimmer Skinstick, tick, tick!" much like her love for hooks (think Umbrella ella ella ella) and repetitions (think Work work work work work). This Matchshtick Shimmer Shkinshtick is just too hard for my not-too-flexible tongue.
These cute hexagonal tubes are also magnetic such that if you have more than one of these, one can pick up another, and another, so on and forth, until you get yourself a clump of honeycomb. This makes packing and grabbing them super fast and convenient; very smart indeed.
Application
You could either glide the product directly on to your cheeks and eyelids or if tainting this gorgeous stick with your foundation is a pet peeve of yours, then you may pick up the product with your finger before lightly patting it on to your skin, which is how I'd applied it on my eyes and cheeks here in the picture below. The lips is a different story though – I had on them the It Cosmetics Vitality Lip Flush Lipstain in Jenesaisquoi which brings out the natural lip colour according to my body's pH level.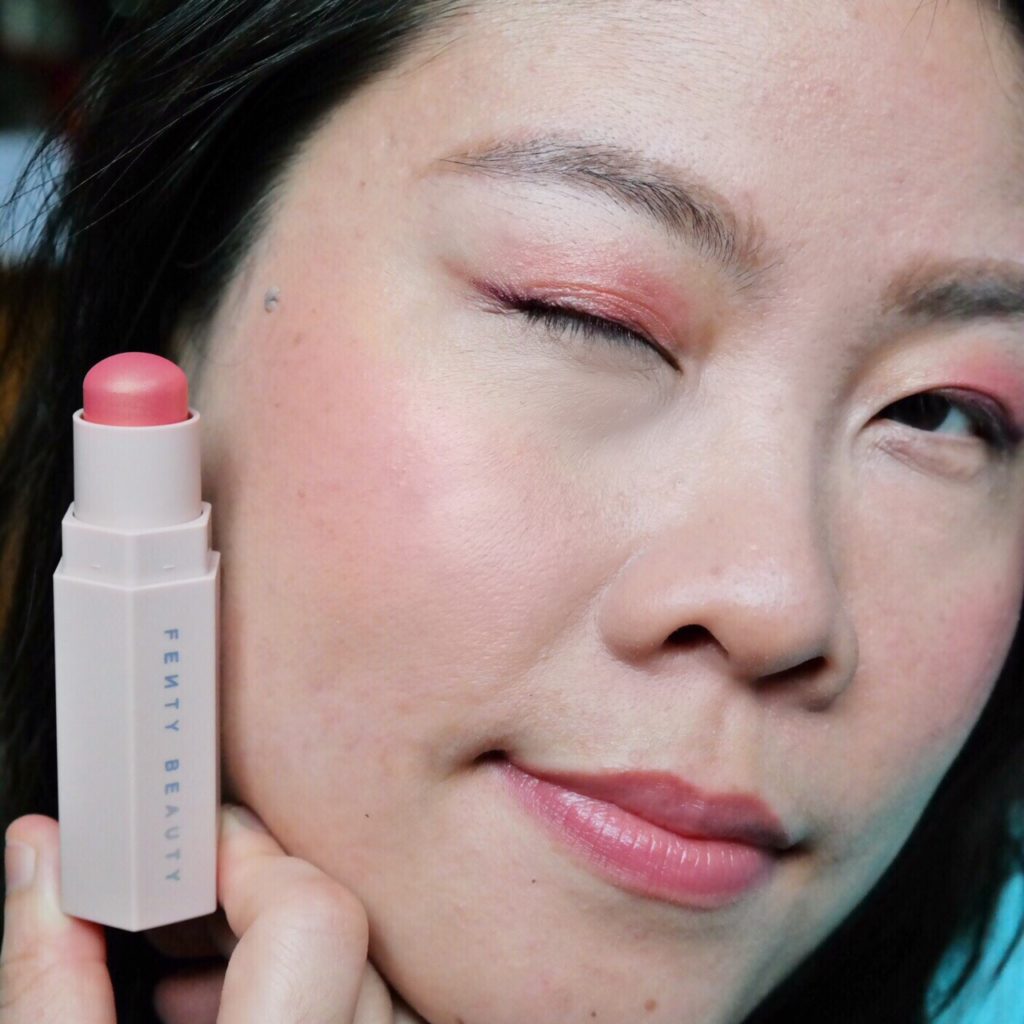 Shade

I don't get why the shade Trippin is being compared to Nars's iconic Orgasm. Unless I'm unknowingly color-blind, this shade Yachtlyfe has to be the closest to being that comparison. The photos below show the pigment from afar and up-close. The reason why I'd singled out this particular shade when I was swatching a whole bunch of the other shades was because of how soft and delicate the nudey rose hue Yachtlyfe gives as a blush stain on the cheeks when hidden from light and then has that subtle gold flecks that warm your look visibly where the light hits when you look closer. Nothing too over-the-top, nothing too safe; it's just what I'd think the french would call, perhaps, je ne sais quoi?
These cream blush cum eyeshadow sticks come in 10 shimmer shades (Starstruck, Sinamon,, Blonde, Rum, Yacht Lyfe, Trippin, Ridiiic, Chili Mango, Confetti, Unicorn) while their matte counterparts come in 20 shades. The matte ones are more of your highlighter and contour sticks, of which are also versatile enough to be used as cream shadows.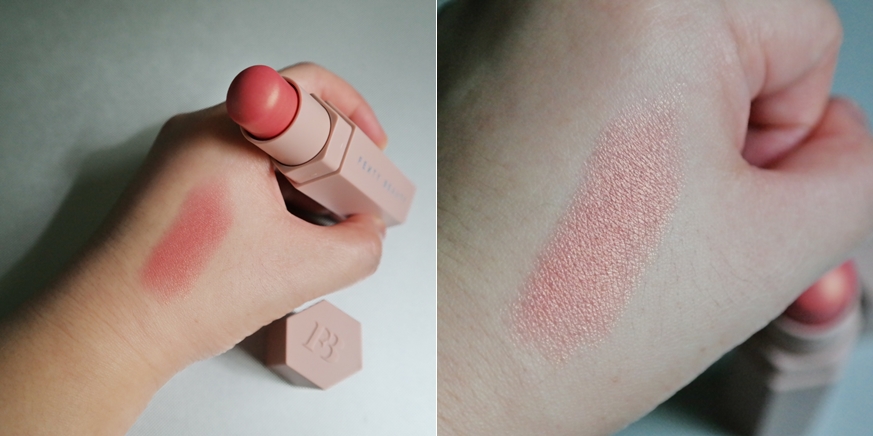 Texture
This glides on smooth as silk, almost zero resistance, which is always nice as it doesn't drag your skin. The formula is vivid but not rich, which means the color payoff is true to the color of the product as it is and takes no effort to blend. The color pigment is good enough for you to pick it up with your finger as well, and then transfer it on to the skin. I've read reviews about these being not pigmented enough which I thought is crazy. Just look at the swatches below and how it appears on my eyes and cheeks above.
Wearability
I've been out and about for more than 8 hours with this product on my eyes and cheeks and the makeup is still pretty much intact. The gold flecks on the cheeks might have gone but the blush stays on; the eye makeup remains on fleek. Funny that my face was primed beforehand but not my eyelids. It is circumstances like this that makes me appreciate my hooded eyes. Who would've thought those deeper than necessary creases help to make makeup last longer?
The Fenty Beauty Line
Price & Where To Buy
The Fenty Beauty Line of makeup is available at all Singapore Sephora stores. The Match Stix Shimmer Skinstick Retails at SGD$37.00 each.
Please follow and like us: