Here's a sequel to the sun kissed cheeks the Josie Maran Coconut Water Cheek Gelee gives that I blogged about the other day. How about some poppy love before we call Spring over? The color of poppy is very much a corally bright red that is just bursting with energy and glow. Many shun it because they feel it may be too loud. But cheeks are meant to be highlighted so you appear youthful and jovial. Why do you think Santa appeals to the young even though he is an old man? Want to look younger? Pop those cheeks out!
Makeup Forever HD High Definition Blush Review: #410 Coral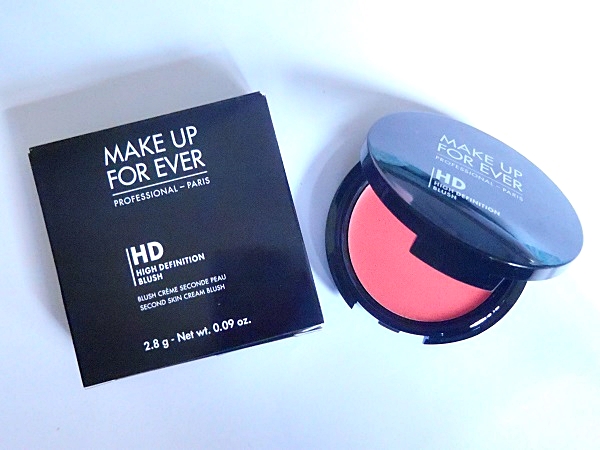 I don't know how Nars get their name for their Nars Orgasm blusher but when I whizzed by the Makeup For Ever rack at Sephora the other day, it was this incredibly alluring shade that screeched me to a halt. Yeah, if orgasm wasn't what I'd experienced the other day I don't know what was. When you fall in love with something at first sight, you cannot deny that all guard is down. And when your eyes are fixed at some product when the whole Sephora store is spinning, then that's Sephorgasm for you. Period.

Packaging
The only complaint I have about their HD blushes is that their casings are too difficult to open. You need to pry open it with your fingers and nails to leverage on that flap that sticks out only by a tinee-wine bit there….urgh. You get the picture. If only the opening is as simple as snapping it close. Ladies with fresh manicures done…uh-oh for yous.
The size of it though is sleek and compact; ideal for bringing along with you on-the-go.
Price, Size & Where to Buy
SGD$50.00 (whoa!!) for 2.8grams (0.09 oz) of product. Available at Singapore Sephora stores.

Color & Consistency
It is a beautiful mix of warm and cool tones if I say so myself. It carries a warm orange undertone and a cool rosé tone, like that of a sparkling rosé champagne. And because of the orange undertone, I believe it will look even better on tanned skin as too much pink in the pigments may appear ashy on darker skin tones.
What else can I say for a $50 blusher? The texture is rich, creamy and a little waxy, and the pigments had better be great. Yes it is very pigmented for the record. Blending it on the cheeks is easy-peasy; the formula is so soft you can blend with your thumb. Like what MUFE said, it feels like second-skin.

Innisfree Mineral Blusher Review #2 Raspberry Pink
So what's the dupe here? I know these two are different; one's a cream blush and the other is a mineral powdered blush. There's no comparison when it comes to the formulation. What's worth comparing is the color payoff, the long-lastingness and the same kind of Spring poppy flush they give – all in the name of your wallet.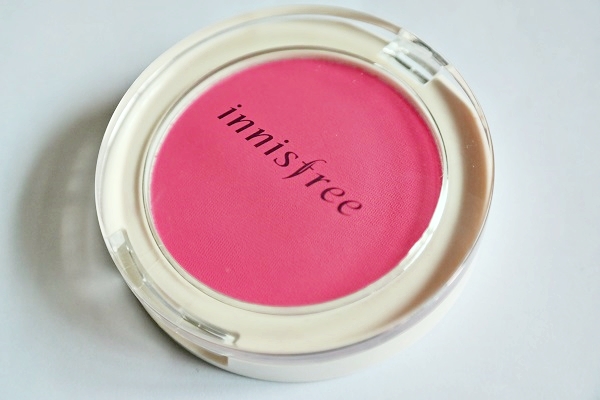 Packaging
It is pretty self-explanatory there – transparent cover which is great, and the product is actually leveled lower than the case for stability. I thought such detailing is critical; who knows one day you'll appreciate this like I do now if you ever find your blush pots popping out like how my Clinique Cheek Pop plunged and shattered to its death. I want my cheeks to pop, but not in this way.

Price, Size & Where to Buy
This dude here costs MYR28 – that's at SGD$10.30 and at 2.5grams (0.88 oz) I've yet to check out how much Singapore stores are selling, but then I'm sure it doesn't cost half as much as the Makeup Forever HD blush.
Colour & Consistency
The shade is a sweet dolly pink and yet not too shocking. It appears very shocking pink from the look of it but when dusted on skin it is not. Neither does it appears dull like the shade of dusty rose. Somehow the shade gets warmer when blended out on the skin; nothing like what it looks in its compact. You can see this in the swatches below.

The mineral powder gets picked up by my Real Techniques stippling brush easily and the pigments transfers quite effortlessly onto my skin without too much excess powder flying around. Thumbs up for this alone!

Verdict:
I love both blushes! They are so different in many ways yet achieve almost the same kind of coral-licious flush with a tiny bit of translucency that I want. They are both equally lasting and I mean those flush they leave on my cheeks last from morning till night between those intermittent oil blotting. The Innisfree mineral blush comes as a big surprise for me, the powder is so finely milled they bond with the skin easily. Let's just say, with this blush, I don't need to spend a ton to turn my cheeks into Spring's juicy apples.
These poppy colored blushes may just be your thing to spring your face forward this season.
Please follow and like us: