G'day mate. Don't be jelly of what I'm about to show you 'cause it's not just any gelee. I believe it is sold across many cities for a few years now but I don't think this amazing cheek product is available on Singapore's shelves, so. Why not I just talk about what I bought on a whim from Perth's Myers here?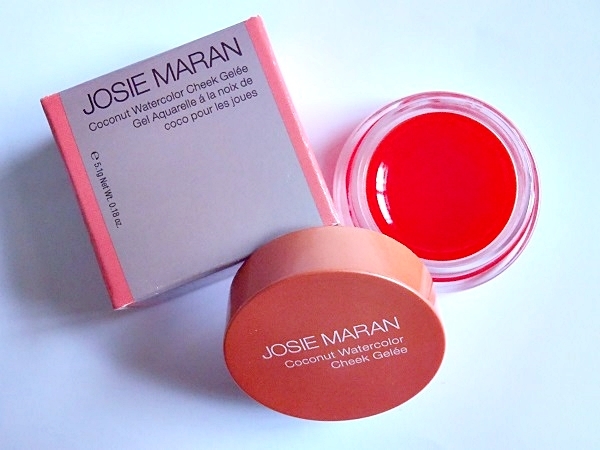 We've heard one too many times of how cream blush locks with our skin and make our cheeks look rosy all day. Now how about dipping your finger into a pot of smooth pudding to give not just that lasting ruddiness to your face but cheekbones that glow? No we're not talking about those ridiculous highlighting or contouring blushers that gave Maleficent her chops-gone-wrong, but cheeks that beam from within.
Josie Maran Coconut Water Argan Oil Cheek Gelee Blush Review
Think Josie Maran is only capable of argan oil? Apparently she aced coconut water too. Yes! Coconut water! Who would've thought? You know it is no longer a myth when result speaks from your face and not your mouth. For decades, drinking coconut water not only helps skin and hair glow but is also one of the most natural moisturizers. As we are in Spring season for most cities, I picked up the shade "Coral Oasis" – the zestiest shade of all. Singapore, you should know yourself. You're Summer all your dang life. Why go for the cool when you have the hots?

Packaging
The gelee blush comes in a small clear glass pot and a plastic screw-on lid. The colour of the lid doesn't quite cut the shade you'll be getting so  just flip the small glass jar upside down to get a glimpse of the actual color from the bottom if you're too lazy to even screw open to find out.
Price and Size
5.1 grams net weight (0.18 oz), retailing at AUD$27.00 at Myers in Perth (SGD$29.16 – price was correct at time of conversion).
Shades
Coral Oasis (tangerine), Poppy Paradise (warm pink), Pink Escape (cool pink), Getaway Red (true red), Berry Bliss (deep wine), Honeymoon Honey (neutral brown)
I was very impressed by her array of shades alone. From warm to cool hues for vibrant to sophisticated pull-offs, they cater to all skin colors and undertones.

Texture
By the look of the product it seems more like a lip salve or balm. As you stick your finger into it and begins to swirl, the texture feels slithery, not soft like gel or even gelatin-like (the words we thought the term "gelee" comes from). It feels more like touching soften candle; like wax giving way to warmth.
Fragrance
Fragrance-free, free from synthetic fragrances and perfumes.

How To Apply
With your finger swirl lightly and just break the product up a bit if you just need that hint of blood and healthy glow in your dullen cheeks. For that flush and translucency, you want to pick up more product. The first few attempts may take you quite a while to loosen up the glaze layer and you may just end up with sheens on your finger each time. Blend the product on to the apples of your cheeks by soft and quick taps.

How it Works – the key ingredients
Coconut water
Said that before, this product is cleverly 50% infused with coconut water. Much like how you'd go for the inner shine when you drink it because it is a natural electrolyte with loads of vitamins and minerals, it does pretty much the same when apply on the skin. Coconut contains vitamin C and E to help lighten age spots and natural electrolytes to lock in moisture to keep the skin hydrated and supple, without looking greasy. It also contains antioxidants that defends your skin against free radicals and cellular damage such as UV radiation from the sun.
Argan Oil
What is a Josie Maran product without argan oil? They say water and oil do not mix. This blusher proves otherwise. It is no secret how wonderfully argan oil is to the skin, and yes this includes treating acne. It not only contains active triterpenoids that promote the healing of the skin tissues and scars but also essential fatty acids that fight oxidation and boosts skin metabolism in renewing itself and prevents it from wrinkling. Argan oil also helps to bind moisture to skin, which is why it helps coconut water in this case to stay on longer on our cheeks.

Josie Maran Makeup – Why we love it even more:
She stands by her tagline "Luxury with a Conscience" for her products. Knowing that this is a vegan, paraben-free, gluten-free and cruelty-free product, we not only feel and look good but do good at the same time.
Verdict: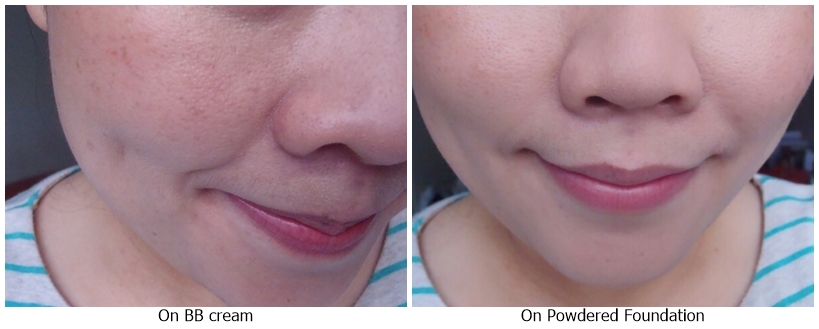 The fact that it is 50% coconut water and not cream or powder based suggests that it does not clog pores, and provides hydration at the same time. This means it works on all skin types – dry, oily or combination. The texture binds like a thin film on the skin and stays well even on powdered foundation; just as well as it is on cream based makeup and liquid foundations. And by well I mean all day. Do not go back and forth with your finger-dipping in between applications or you may transfer some other makeup into the blush and contaminate it. Be decisive about transferring a certain amount onto the back of your hand before building it on your cheeks. 
The color payoff is fairly sheer but natural. The tip is to tap gently to blend until the shade appears uniform on the skin, and not to glide it on the skin otherwise you may find that the streaks of tint are being smeared a bigger area than necessary without actually fusing the moisturizer and colored pigments together (like what I've done in my middle picture of the hand swatches).
This blush gives the appearance of translucency – not the type that a lot of luminous make up currently offer in the market with their sparkly pigments that only work well under artificial lighting. The kind of radiance the Josie Maran cheek gelee gives is believable because it diffuses that afterglow skin gives when it is flushed naturally. The photos above were both taken in daylight. I thought the product nails on dewy skin perfectly; and not cheeks that are dusted so shiny you look like a car with two glaring headlamps.
I don't see this in Singapore so you may want to just give it a go online (click the product image below) if you're looking for that perfect long-lasting summer blush!

The #josiemaran #coconutwater #arganoil #cheekgelee will make others #jelly of you. #vegancosmetics… http://t.co/dQMcCYvFBF

— SGBeautyProducts (@SGBeautyProduct) April 3, 2015
Please follow and like us: