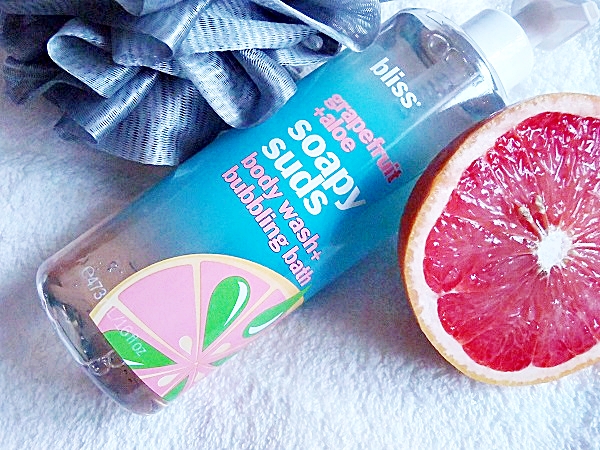 Once coined Asia's biggest Bliss Spa annexed to Sephora Orchard Ion in late 2009 (now closed), it is no wonder many knew about Bliss World Spa and their toiletries, body, facial and skin care products. But do you know you can give your body some pampering Bliss spa-like treatment at home too?
Start off with your daily shower routine. Today we are going to give a review on their Bliss Body Wash and Bubbling Bath gel – in their Grapefruit and Aloe blend!
Bliss Grapefruit Aloe Body Gel Wash: a great spa product!
Fragrance
This body wash smells heavenly. Bursting with fresh and sweet grapefruit scent and the subtleness of aloe vera, this bath gel uplifts your mood and unwinds your body in the shower or bath after a hard day's work.
Colour & Consistency
The product dispenses a light peachy, clear gel liquid.
Packaging
The Bliss Soapy Suds Body Wash and Bubbling Bath comes in a clear plastic bottle with a white press pump.
Size
The body wash comes in 473ml (16 fl oz) sized bottles.
Price
The Bliss Soapy Suds Body Wash and Bubbling Bath gel retails at SGD$32.00 each at Sephora stores in Singapore.

Bliss Soapy Suds Body Wash Key Ingredients – How it works
Aloe Barbadensis Leaf Juice – extract from the Aloe Vera plant that helps restores moisture and suppleness in our skin in preventing it from getting dry and flakey. It is also anti-inflammatory and aids in the healing of skin irritations such as itches and rash.
Glycerin – like aloe vera extract, is a humectant that prevents moisture loss by working moisture from the underlying dermis upwards to your epidermis layer for a more pliable skin structure so as to prevent cracking, peeling or resulting in fine lines or blotchiness.
Citronellol, Linalool, Limonene – These substances are found in the oils of rose and geranium as well as naturally occurring in floral and scented herbal plants and citrus fruits respectively. These are fragrance ingredients that give the product its refreshing scent.
Vitamin E – a critical antioxidant that has anti-ageing effect on the skin. It strengthens the skin's immunity against free radicals and sun damages and also helps in cellular repair that ultimately not only improve the skin texture but also speeds up scar healing.
The body wash is paraben-free which makes it a very safe skin product to use especially when it is for daily use.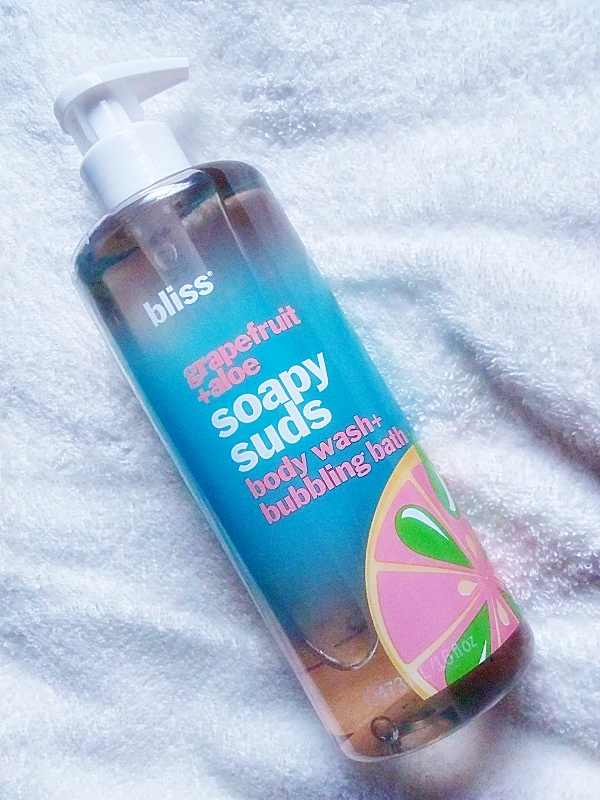 How to apply
After a good body scrub, simply dispense 3 to 4 pumps onto palms or a loofah and lather into damp skin before rinsing. For a bubble bath, dispense a few pumps into a tub of warm running water for a rejuvenating spa soak!
Bliss Skin and Body Care Product Range
The New York-based Bliss brand has a wide range of spa-licious skin care, body, facial and other beauty products that target from your head to toes. The Bliss soapy suds body wash and bubbling bath gel series also come in 'Blood Orange with White Pepper' as well as 'Lemon and Sage'.
Verdict:
A refreshing and invigorating spring summer shower experience that lathers and foams well, leaving the skin soft and supple. The grapefruit scent lingering in the hot shower room after that is kind of satisfying too. For a spa product that is of a decent size, we think the price point is cleverly positioned.
Not gonna lie, the light peachy pink colour of the bath gel when dispensed into a small clear bottle whenever we pack it for travelling also send some delight down our girlish spines!
Just'cos it's #Halloween doesn't mean u nd to be decked in #uber pumpkin spice. Why not be #bliss like a grapefruit? pic.twitter.com/fdZbR02qSv

— SGBeautyProducts (@SGBeautyProduct) October 24, 2014
Please follow and like us: